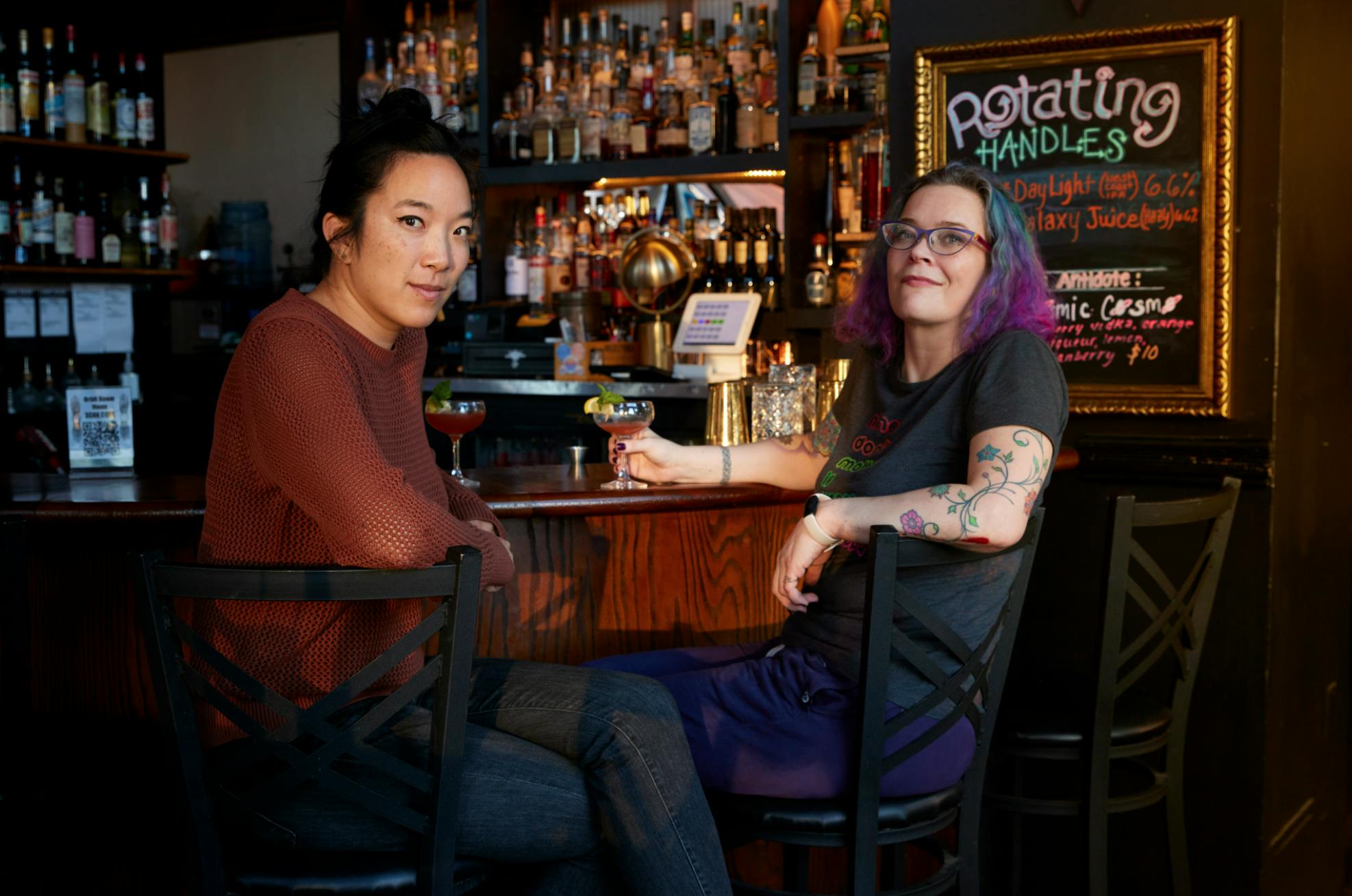 Charity Majors & Christine Yen
We met up with co-founders Charity Majors and Christine Yen at the Orbit Room, a classic bar in the Lower Haight area of San Francisco. It's where the pair has made important decisions about their company, Honeycomb.
The two engineers came up with the idea for Honeycomb — which helps developers more deeply understand the software systems they're building — while working at backend start-up Parse (acq. By Facebook in 2013). Charity worked on the ops side, and Christine on dev.
They both realized that as more software companies move fully online, the job of sifting through massive amounts of data is no longer one that a team of engineers can do alone. With Honeycomb, they created a fast and flexible tool that engineering teams can use to get full observability of their systems, better predict potential issues, and debug code. 
Let's set the scene – we're here on the corner of Laguna and Market in San Francisco. Can you tell us about this neighborhood? What does it mean to you guys and the Honeycomb story? 
Charity: This neighborhood is where we both live, and it's the best neighborhood in SF. The Orbit Room is where many early interviews took place and important company decisions were made.
Christine: We've had so many different offices over the years that none really hold outsized significance for us. Orbit Room, on the other hand, has been a constant—and some conversations are better had over a drink, instead of under fluorescent lighting.
How did you two meet? What advice would you give to yourselves back then?
Charity: We met at Parse, where we were both engineers.
Christine: Charity was the first infrastructure engineer at Parse, while I was a software engineer working on the analytics product—and while we were friendly, the early interactions I remember were all situations where some code I wrote resulted in problems in the reliability and stability of systems she had to operate.
If you weren't working in tech, you would be…
Charity: Probably a philosopher.
Christine: Something with special effects in the movie industry. Or practical effects. I don't really know—but I love the idea of bringing imaginary worlds to life.
What is your favorite memory of this business?
Charity: Watching people get promoted on the basis of the work they have done introducing Honeycomb, to their org, because of the outsized impact it had on the entire team.
Christine: What she said. A couple months ago, I went through a years-old deck to snag some slides with customer quotes on them—and I realized that each of the 4-5 customer references had a new title (but at the same company!) on LinkedIn. We always talk about partnering with and growing with our customers—and it was a visceral jolt of pride to see it reflected in such a simple, tangible way.
If you were to write a book tomorrow, what would it be about?
Charity: Well, observability, obviously. :) 
Christine: Oh, man. If I had the time to write a book tomorrow, I would not spend that time writing a book.