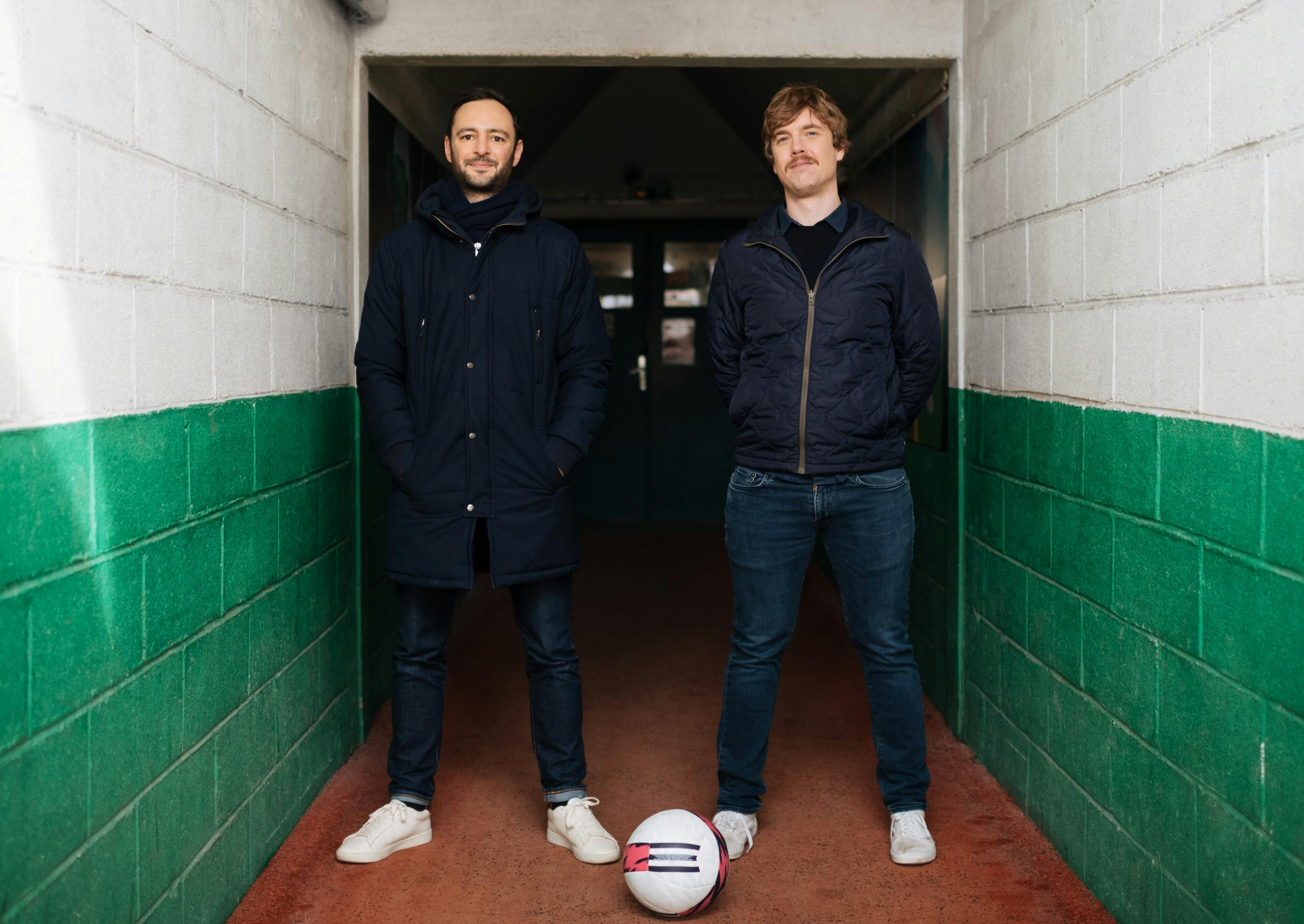 In early 2020, we met a tiny French team building the new Panini, digitally.
A fantasy football game where players could own and trade the cards in their collection, courtesy of the Ethereum blockchain. It would be our last in-person meeting before the COVID-19 lockdowns. The timing couldn't have been worse as all football leagues were shutting down. The tiny team was Sorare, who just closed Europe's largest-ever Series B - $680 million at a $4.3 billion valuation. This is the story of what set them apart and ultimately made us lead that early round.
At Headline we have always been fascinated by blockchain technologies and the markets forming around them. We invested in a Bitcoin-Ripple exchange more than 15 years ago. Spoiler: It didn't work out. We were surprised and equally worried about the early ICO craze in 2016, back when even Steven Seagal had one.

It was then that we got excited about a new segment, Non-Fungible Tokens. NFTs prove ownership of a digital item - image, sound file, tweet - in the same way, people own crypto coins like Bitcoin. But unlike cryptos that are identical and worth the same (1 BTC = 1 BTC, duh), NFTs are indivisible and strangely unique. They are more akin to artwork.

Early projects like Crypto Punks made big waves at launch that today echo in the proud owners of Bored Ape Yacht Club snobby primates avatars. We chalked most off as speculative hype, but the idea stayed in our heads.
It wasn't until early 2020 that we spotted a truly intriguing NFT concept. Through the grapevine of football nerds, we heard of a couple of French entrepreneurs building the new Panini, digitally. We loved the sound of it.

Our good friends at Seedcamp made the connection (forever grateful, Sia!). Back then, Sorare's Discord only had a handful of members. We joined the Discord and saw they truly believed in the community and the sport. NFTs felt special and personal.
When we spoke with Sorare's CEO and co-founder Nicolas Julia, we found him both precise and structured, and highly passionate. He had a staggering clear vision despite the early stage BTW: here's the funding deck he approached Headline with.
He envisioned a scenario greater than "just" a fantasy football game. His was a platform for fans from all over the world to meet, own their games, track up-and-coming players. An entirely new kind of media platform.

Early traction was impressive. Three months in, their user retention was  >60%, with an incredibly high average revenue per user. 50+ football clubs had already been onboarded.
"It's a brand new market for the clubs and leagues. It's not competing with video games or existing media. We are expanding their reach to new audiences and geographies. And it's a way to consolidate the digital leadership of their brands" says founder Nicolas Julia.

All of this with a tiny pre-seed round, no paid marketing, and only 5 members in the team. This was unique. What were they "doing right"? We recently spoke with some of the early users, to recount what stopped us in our tracks during our research:
"Two things made Sorare stand out: Their capacity of consistently onboard official clubs to the platform and how, from Day 1, they made any new iteration of the platform a joint effort between the community and the development team" says Mark Sharman, one of the original Sorare beta testers who now earns from professionally trading Sorare cards and other NFT assets.

"In 2018, I was playing an NFT baseball game. I liked the sport, the design of the cards, and the official license. But I felt the owners weren't listening to the community. They made mistakes on the card's rarity that turned users off. Nicolas from Sorare found me on that game's Discord's channel and asked me how I would feel around a collectible game around football. Others had tried before, but they held no official rights and relied on cartoon characters or infringing copyright licenses."
"They didn't build Sorare in a vacuum and then try to market it. They were never too proud to keep pushing in the wrong direction. When they made mistakes, they were always open to admit them. They'd take that back, and rebuild the product. What they built is a community. There is no space for sunken-cost fallacies in that."
"Nicolas started a new Discord with me, his co-founder, and a handful of soccer and crypto enthusiasts that are still involved to this day. 30 beta testers were trying the platform in late February 2019. They took the time to try over and over until they got the formula right. It got competitive from the beginning, even if the first cards were from the Belgian league and most of us didn't know much about it".
Another user who prefers to stay as a background source echoes these thoughts:

"Other companies go wrong because they are building the game they want while pretending it's the game you want. Sorare got a bunch of people that really liked football together and kept asking relevant questions. They kept working with them and it eventually became a collective achievement. They didn't build Sorare in a vacuum and then try to market it. They were never too proud to keep pushing in the wrong direction. When they made mistakes, they were always open to admit them. They'd take that back, and rebuild the product. What they built is a community. There is no space for sunken-cost fallacies in that."
Like every company, Sorare had its fair share of faux pas in the early days. But it was always quick to address them, as explains founder Nicolas Julia himself: 
"Something we did wrong, in the beginning, was thinking we could just move from the early adopters to a mainstream audience. Nobody can. The product takeaway is constantly moving from a niche audience to a slightly larger niche over and over."
"Sorare is built around three core principles that reflect this", continues the Paris-based entrepreneur. "The first is empathy towards the community. I know everyone says this and it might come across as bullshit, but we truly stick to it. Everyone in the company talks daily with our users and listens. Building in the open is a key part of Sorare's success".
"The second is velocity. We can make mistakes along the way, but we need to keep the agility to fix them fast and move on. It's about having a mentality where every team moves fast, not just product design or engineering". 
"Finally, there's ambition: We are creating something entirely new. How can we achieve it if we limit ourselves to the goals we had set? We could have never raised this kind of Series without this mindset."

So far, Nicolas's mental framework is reflected in the tremendous growth of Sorare: The number of monthly active paying Sorare users continued growing by 34X between Q2 2020 and Q2 2021, with quarterly sales increasing by 51X.

180 professional football clubs have now adopted the platform and granted their licensing rights, with world stars like Barcelona's Gerard Piqué and Atlético Madrid's Antoine Griezmann involved both as investors and Sorare players. 
"Antonie wants to compete" continues Mark Sharman, "He fights for the leaderboards. He makes some great purchases, but he's fighting for the leaderboards. And he's winning prizes." 
"You know how at the start of the season players proudly compare their own FIFA cards and ratings? Many professional football players reach out to us to check how their Sorare cards are doing after their last played game. This kind of special relationship with all users is one of the strengths of our company" tells us Brian O'Hagan, an early team member of the company who leads the Growth team.
"There are three kinds of Sorare users: Casual football fans can seek their own players and compete in fantasy tournaments. Professional traders are after a return on their investments. Crypto enthusiasts collect and hold. They all get something out of the platform".

This diverse community is super active in building all kinds of third-party applications. SorareData, a platform that uses the Sorare API to provide market data, player stats, and scouting features even bagged a $700K funding round of its own.
Of course, we couldn't know Sorare would go on redefining best-in-class metrics for consumer business and building an ecosystem when we first invested in 2019, but the mindset was already clear back then: Where others focused on the collectibles, Sorare used the technology to give fans new ways to connect with one another and football.
At the core, we saw three key advantages in Sorare:
1) It's truly a community product, and our thesis is that it will be successful as long as it stays one. 
2) Utility is a core feature of any successful NFT. If your NFT is just beautiful, it might not be enough. But if it has certain perks to it, NFTs unleash their power. Sorare's cards can be used on any given match day. That's a retention driver.
3) Europe: There is no better place on earth to start a soccer-focused company, build relationships with clubs and leagues. Europe is the cradle of soccer and this plays to the strengths of the business.
It's mind-boggling what Sorare can achieve when they leave the beta and focus on consumer acquisition and/ or to more verticals. One could easily imagine a media arm spinning from the main game alone to be worth €1bn+. 
As Nicolas Julia himself puts it:

"Every time we close a funding round, I come back to the team and explain it's a milestone towards the next step. But that we need to keep focusing on what has been important for us since Day 1: sticking to the values we share with our users and continue growing. What has been working the past six months might not work for the following six."
With its passionate community, long-term utility, and deep relationships in the European soccer universe, Sorare built three defensible moats that will be very hard to compete against. To the entire Sorare team: this is your day, you deserve this!
Congratulations to Softbank (SoftBank Vision Fund 2 and the SoftBank Latin America Fund), Bessemer Ventures, IVP, Hillhouse, Atomico, Blisce, D1 Capital, and Eurazeo. Great to have you alongside Headline, Benchmark, Accel, Partech, Futury Capital, business angels like Reddit co-founder Alexis Ohanian, and football players Gerard Piqué, Rio Ferdinand, and Antoine Griezmann.