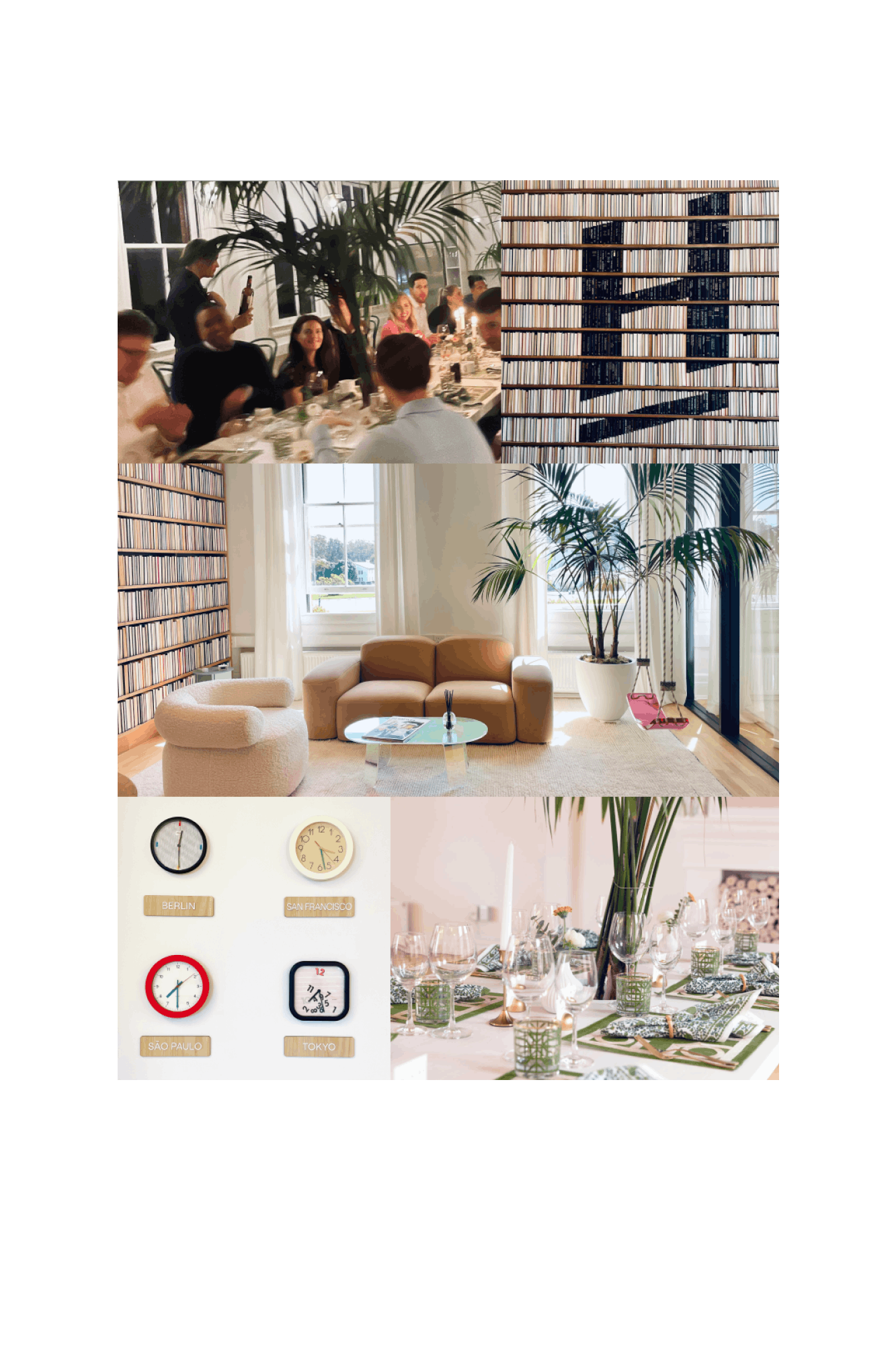 Last night, we welcomed our community of Founders, Entrepreneurs, Limited Partners, tech leaders, and friends into our new office to celebrate the next chapter for Headline in San Francisco. We wanted to share how this space came to life, and how we've been thinking about bringing our team "forth" to the office.
In a world where many are questioning the role of office space, or forgoing it altogether, we recently tripled our footprint in San Francisco. But we're not going "back" to the office.
A lot happened in the last three years, for better, for worse, for weirder, and in every corner of our lives and culture. While baking sourdough en masse turned out to be a fleeting trend, we got used to seeing more of our families, enjoying calmer mornings, and working more flexible hours. Like many companies deciding how to bring teams back together again, we debated what a post-Covid company culture should look like. Ultimately, we acknowledged that yes – our team was capable of being productive at home. But we craved a work life that was about more than getting work done, and seized the opportunity to start a fresh chapter in a new space.
One thing we all agreed on: going "back" wouldn't be possible. 
We started by bidding farewell to our old office at the top of the Transamerica Pyramid. We gathered the team – those who had worked there for 20 years, and those who had only spent a few masked days within its walls – and had dinner. We toasted the space, thanked it, and closed the doors behind us. This ritual turned the page for our team, signaling change was ahead, and that we were all in the transition together.
Then, we started from scratch. We assembled a "Real Estate Committee," to lead the charge, engaging the broader team at key points in the process. Together, we debated location, design, open-plan versus closed offices, whether people would show up, how to thoughtfully create a working environment that feels current, and how to deliver the message throughout the firm.
I'm going to break down each of these debates, where we landed, and why.
Part 1: A Poll on Place
Of all the things no one wants to go "back" to, a long commute is at the top of the list. We plotted our team on a map, taking note of where the majority lived and would be traveling from. We then compiled a list of possible neighborhoods, and circulated a survey asking individuals to rank their preferred locations. Ultimately, the Presidio won – a unique national park inside San Francisco, which gives us access to the outdoors and feels like a worthwhile destination for those coming from farther away. We continued to carefully select moments where polls could guide the process rather than derail it, and would give everyone a reassuring sense of agency in the process.
Part 2: Designing for Desired Behavior
Another thing people didn't want to go "back" to was an office designed just for productivity. Our goal was to create an environment that replicated some of the comforts of home, while contrasting enough be worth leaving home for. Our goal was to create an energizing place to connect with our community, internally and externally – through events, collaboration, and serendipity. 
To achieve this, we wanted to break expectations upon arrival and inspire an immediate mindset shift. Our reception area features a floor-to-ceiling library wall, configured with our logo featured in the center made from the spines of books. We replaced the fluorescent lighting off the elevator with a chandelier, and enveloped the entryway with light wood paneling. For seating, we opted for a shearling armchair, a plush, bubbly sofa – and a hot pink, lucite swing hung from the ceiling. We placed a massive palm tree in the corner, bringing some of the outdoors in.  Home, this is not. Corporate? Au contraire. 
We also wanted the space to inspire movement, and create the possibility for people to collide outside of scheduled meetings. Our kitchen features a long dining table, where we gather daily for lunches, and often host dinners. We placed two massive sofas in the middle of our workroom for breaks and impromptu chats. We shared outdoor walking route suggestions with the team as part of our office orientation, encouraging in-person or off-video fresh-air meetings where appropriate.
Part 3: Open Versus Closed Door Spaces
Our next debate was open plan versus closed offices. While our old office was built for private meetings, we decided on a new configuration, knowing that on days where complete privacy was needed, people could opt to work from home. Our office needed to serve a new purpose. So, we created a hybrid approach: our shared Workroom brings us all together, encouraging connection between colleagues who may not otherwise see each other. Our book-able conference rooms are Zoom-ready, and offer privacy for virtual meetings or deep work throughout the day. 
Whenever possible, we encourage in-person meetings with local contacts at the office. Our reception area, and our lunch table, are often buzzing with visitors. 
Part 4: Attendance Cadence
As we neared the end of our design process, our leadership team came together to discuss in-office guidelines. We knew we needed to set a rhythm for the space, create compelling reasons to come in, and offer a framework around which people could build their own new, post-Covid routines. 
We decided to give purpose to specific days of the week to bring everyone together. On Mondays, we host a full-team meeting and ask for in-person attendance. On Tuesdays, we have a team lunch where we welcome guests, and randomly assign seats to mix up conversations. We asked that everyone select at least one additional day to come in, as it works for them. We tried to purposely make every day worth coming in for – and just added Friday Fundays to encourage a larger presence.
Our goal in communicating all of this was to be firm in our expectations, but flexible in how people plan their days and weeks. Our leadership team is committed to being present, and is in the office 4-5 days/week, while also leading by example when prioritizing children's sports games or school events, working remotely while traveling or sick, or managing other personal commitments throughout the week. 
Part 5: Rallying the Team
Last came the question of how to rally the team. We decided on a breakfast party. We gathered in the kitchen, and shared our Office Orientation presentation over yogurt parfaits, mimosas, and coffee. We continued the momentum a couple of weeks later with a sit-down dinner that stretched until midnight. These events brought instant energy to the space, created positive associations for the team, and lured people in without force. They also demonstrated the potential for our space to be used for social gatherings, and many of our teammates have independently planned events for their networks as a result.
So what?
As a venture capital firm, we put our money behind things that create the world we want to live in. Especially as work becomes more automated and digital, we're placing value in real, human relationships. We believe they're the foundation for a truly productive career, and that they're best made in the flesh, with all of our senses engaged. We also believe that cities have a unique and inherent ability to stimulate, to challenge, and to attract ambition. So, we tripled down on San Francisco – known for its historic booms and busts – and the innovation that repeatedly emerges from its dramatic cycles. 
Because we're not going "back," we're constantly navigating this new balance between work and home, Zoom and IRL, deep work and healthy distraction. We know it's going to take time for everyone to adjust, and we're continuing to make changes to our space as we learn. We have some colleagues who are now fully remote and many based in our 7 other offices around the world, so we're also honing our hybrid meeting etiquette, and setting the frequency for full team events that bring us all together. 
We hope wherever you are, or whatever kind of company you're building, some of our thinking might inspire ways to bring your team forth.