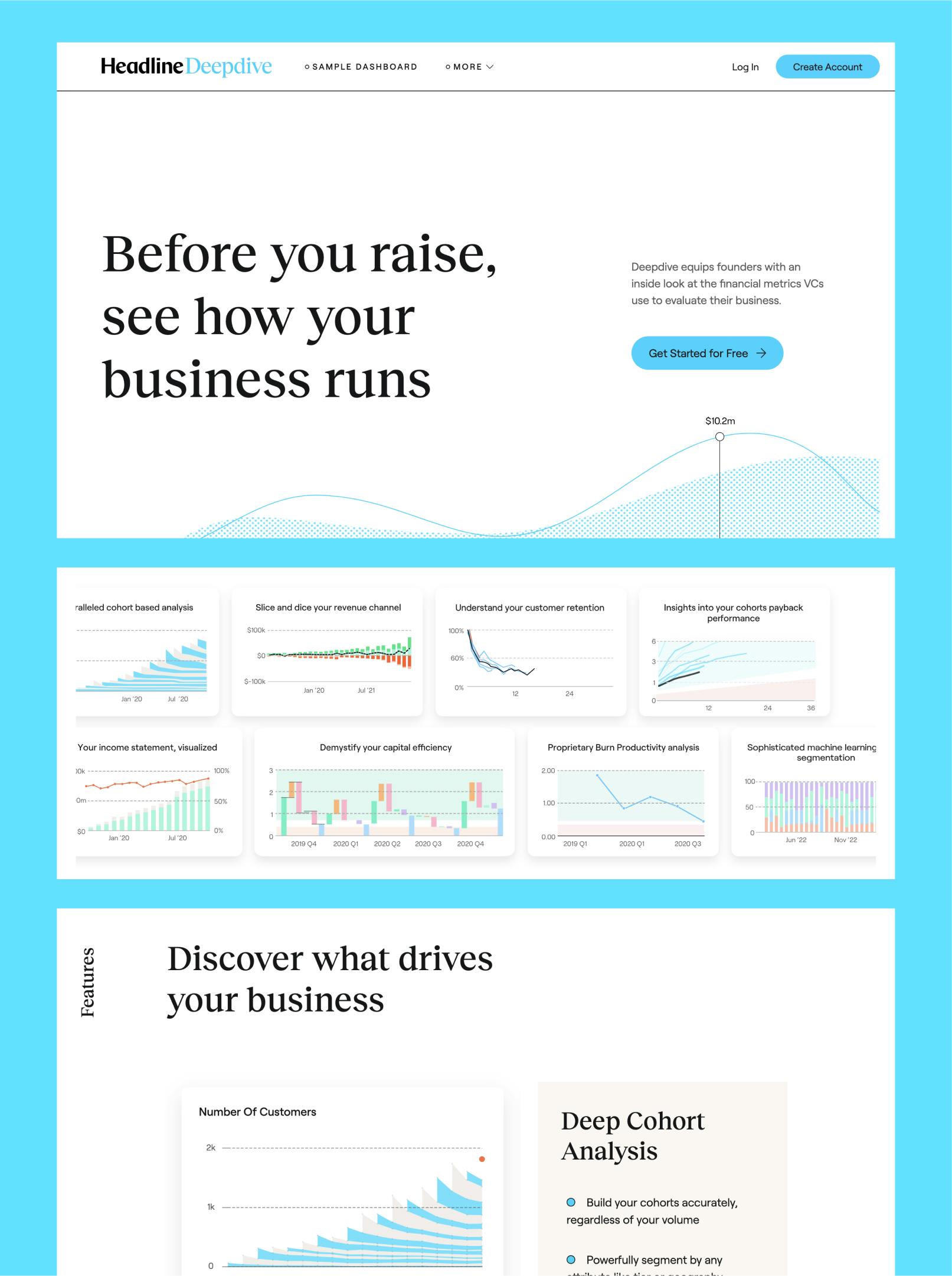 As a startup founder, working your way to success involves overcoming a plethora of challenges and critical decision-making moments. Building a successful business requires more than a strong gut feeling. Data-driven insights and nuanced business analysis are your strongest pillars for future growth. But not every founder has access to the tools or know-how to measure their company's financial performance or customer retention - in fact, most don't. That's why Headline built Deepdive, a free analytics tool that empowers founders to understand their business' performance across the metrics that matter most to VCs. 
Over the past decade, we've refined Deepdive to give founders the same financial insights that we use to evaluate our investments at Headline. By analyzing minimal input data, Deepdive generates in-depth analyses and future projections for companies across all sectors and stages. Internally, it's been instrumental to our diligence process, helping us validate investments. After seeing first-hand how challenging it can be for founders to produce accurate metrics about their company's performance during the fundraising process, we decided to open Deepdive up to founders directly.  With the shift away from "growth at all costs" and towards a renewed focus on unit economics and capital efficiency, it's more important than ever for founders to be able to analyze their businesses with accurate, granular data before they fundraise. While in Beta, Deepdive has helped countless founders better understand key aspects of their business' performance - from revenue and customer retention to detailed cohort analyses over time. 
Today, we're thrilled to announce that Deepdive is now available publicly, to all founders at no cost. And to make it even easier to get started, we're also launching Deepdive Learn - educational resources and tutorials designed to help founders learn how to analyze their business in Deepdive. With Deepdive and Deepdive Learn, founders will learn how to measure the metrics that matter most to investors before they raise.
How Deepdive can help you better understand your company's performance
Deepdive operates as your financial control room, offering an unprecedented view of your business's financial pulse. Its core functionality revolves around cohort analysis, a technique that unpacks customer behavior over time, revealing patterns and insights that are key to informed decision-making and finding product-market-fit. By dividing customers into monthly or even weekly intervals, cohort analysis provides much better monitoring and identification of trends than traditional SaaS KPIs or income statement based analysis. With cohort analysis in Deepdive, you can precisely dissect the top-line metrics of your business based on end-customer behavior.
Unlike traditional SaaS metrics like LTV and CAC, which don't take real customer behavior into account, Deepdive's cohort analysis and other insightful metrics help founders glean actionable insights that can help them answer important due diligence questions that come up during fundraising.
We believe that creating a comprehensive cohort analysis for your company's performance is absolutely essential prior to fundraising, as it will create the best representation of your financials to potential investors. And now, you can perform what is traditionally a very complicated analysis with just a few clicks in Deepdive. 
Check out our demo dashboard to see how it works.
The Top 5 ways Deepdive can help you analyze your company like a VC:
Here are 5 important indicators VCs look at when evaluating potential investments and how Deepdive can help you measure them:
1. Cohort Analyses & Forecasts: Understanding your customer base on a cohort-by-cohort basis is critical for determining whether or not you're on the path to product-market-fit. Rather than spending hours analyzing data using SQL or Excel, Deepdive can automatically analyze your business' cohort behaviors using transaction data directly uploaded from your Stripe or Chargebee account or with a CSV file. Deepdive can also predict how each cohort's retention and payback metrics evolve over time based on historical customer behavior.
2. Customer Segmentation: Tracking customer segments over time helps you understand how different segments of customers behave. Deepdive uses machine learning to help you segment your customer cohorts based on their spending habits. You can also create custom segments such as geography, demographic or other identifiers to help you better understand your ideal customer profile.
3. Quantifying Product-Market-Fit: As early stage investors, we look for companies that are showing clear signs of product-market-fit. This means looking at whether or not your customers are sticking around and increasing the value they're getting out of your product over time (otherwise known as asymptotic retention). Deepdive calculates this on a granular cohort-by-cohort basis to determine the degree to which you've found product-market-fit.
4. Activity Data: Activity data is usually the leading indicator for revenue. Using Deepdive, you can analyze activity data collected from your customer analytics platforms such as Mixpanel and Segment to calculate your product's stickiness and learn about your power users' behavior.
5. Benchmarking: Using aggregate data from across sectors and stages, founders can also use Deepdive to create benchmark metrics to see how they compare to other startups within their respective sector. You will be able to compare your company's metrics, from customer retention to cumulative revenue, to those companies considered top of your class to see where you stand.
Deepdive Learn: Your Go-To Resource Center for Deepdive
We understand that most founders don't have financial backgrounds but are rather sector experts in the industries they are building in - as they should be! We also know that tools like Deepdive can seem overwhelming for founders still learning how to interpret financial data. To demystify these metrics and empower founders with actionable insights, we created Deepdive Learn - a dedicated educational platform.
Deepdive Learn contains two main types of content:
Resources provide a structured curriculum to guide founders from beginner concepts like understanding cohorts all the way to advanced knowledge like assessing capital efficiency. Through real-world examples relevant to founders, these resources aim to elucidate financial metrics so founders can better understand their own performance.
Tutorials offer step-by-step video guidance on using the Deepdive platform itself. From creating your first dashboard to advanced customizations like building personalized templates, these tutorials demonstrate how Deepdive's versatile features can be tailored to your needs. Like a Swiss Army knife, Deepdive equips you with an array of tools to slice and dice data however you see fit.
With Deepdive Learn's educational resources and practical tutorials, we want you to feel empowered to unlock actionable insights from your financial metrics. By demystifying the numbers, Deepdive Learn helps founders make data-driven decisions to drive growth.
Parting Thoughts
Deepdive's strength lies in its ability to transform complex datasets into streamlined graphs and charts, which lead to actionable strategies. Through meticulous segmentation analysis, it gives you a granular view of customer and revenue retention patterns, helping you understand the distinct behaviors and values across different segments. 
Deepdive is free and always will be. We built this technology at Headline to help founders win bigger, and now we want to make it available to the entire start-up ecosystem. Why? Because more accurate data is better for everyone - from founders to employees, investors and beyond. And let's be clear- being free does not mean it compromises your privacy. With Deepdive, your company data remains fully confidential and private, meaning you control viewer access and ownership of your customized dashboards as well as retention of uploaded data. Rest assured, Deepdive was built to keep your business insights safe and private. 
Give Deepdive a try and take a look at our tutorials to learn more about how to create your first dashboard. We'd love to hear what you think!