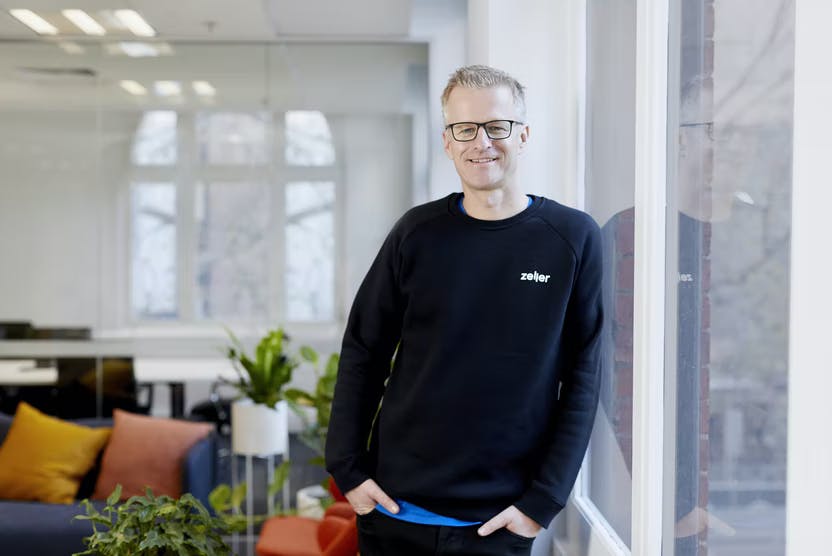 I grew up in Australia, which has a unique ecosystem where only a handful of incumbent banks control the majority of the market share. Because they offer very little innovation, I always knew there was a massive opportunity for fintech disruption. 
While sleek finance products have emerged for consumers over the past five years, I've seen first-hand how businesses have been left behind. I watched my in-laws, who ran an engineering business, struggle with basic financial services from underwriting to getting a loan. I knew there had to be a better way, and that Australia had the right market conditions with its relatively high GDP and thriving tech sector. 
That's when Zeller came to market in 2021 with a simpler, integrated business banking solution. To onboard new businesses, Zeller issues customers a set-up kit that includes a next-generation EFTPOS terminal (a handheld machine used to accept payments), a business transaction account, and a Mastercard. This novel onboarding process helps Zeller easily acquire new customers and set them up for success in one fell swoop.
With CEO Ben Pfisterer leading the charge, I quickly became confident in Zeller's ability to be the answer to businesses' desperate need for better, more modern financial services.
Ben has a skill set spanning across the key pillars of fintech having worked at National Australia Bank, VISA, and Square, where he built the company's AsiaPac division. He deeply understands the Australian ecosystem, and he's built a phenomenal support cast around him that matches his entrepreneurial drive. 
It's no surprise the company has seen such massive growth over the past two years, and Headline is excited to lead its Series B. 
I connected with Ben to discuss his professional path, Zeller's immense growth, and the evolution of the startup ecosystem in Australia. 
You're right at the center of a booming startup ecosystem in Australia. What is that like?
From when I started at Square to now, about eight years, it's incredible to see how many people in Australia now work in tech. We've got some real great proof points of businesses that can succeed like Atlassian, Canva and Afterpay. Now that those companies are high profile, there's a precedent set that it doesn't matter where you're starting the business from. You can do it from anywhere and you can bring it to a global stage. 
On top of that, I think Australia punches above its weight. We have great education systems, great opportunities for entrepreneurs to start business, and a balanced economy. So you combine that with the opportunity that's in technology and starting businesses on the global scale, we're very privileged.
What about Australian culture lends well to entrepreneurship?
In regards to Western migration, Australia is still an extremely young country. Many migrants are first, second, maximum third generation communities, and history often shows that in countries with a strong migrant community, entrepreneurialism levels are above most other societies.
As a young country, Australians also sometimes have a chip on our shoulders, and believe that we've got a lot to prove on a global scale. This drives people hard to build new businesses and create new opportunities. 
You aren't the only entrepreneur in your family, and your dad worked in banking, too. Was this always your intentional path?
I didn't know it at the time, but the impact my dad had on my career was strong — and it was for all his kids, because we are all running our own businesses. My dad was a really talented guy who sort of self-educated himself — he went to night school and then got into electrical engineering. Eventually he couldn't tolerate working for big corporations like Simmons and Hewlett Packard, and he did suffer a bit from heckling and teasing about his accent –– he had a very strong, German accent, being an immigrant. He basically said, "I'll go do my own thing." Then from the ground up, he built a pretty amazing business. 
Building my own business was probably the path that was always going to happen to me and the rest of the family. I didn't know it though; I was straight off to blue chip organizations. We all get told, "Get brands on your CV and take a traditional path." But I didn't fit with those companies. My whole life I've lived by the metric that if I'm going to bed on Sunday night and I'm dreading going to work on Monday, I shouldn't be there.
What else influenced you to start your own business? 
I think it's the way I'm wired. I'm never scared of big challenges. I like being pushed. I like being out of my comfort zone. When I realized that I could start my own business and get those feelings every day, I loved it, and I thrived in it. 
You have an impressive roster of people on your team. What's your secret to finding talent for the challenge?  
I think generally, people fall into three brackets:
— Those at the start of their career. They are super hungry and motivated. They may be hitting a glass ceiling and can't reach their potential and enjoy their work. If you give them a platform to actually thrive, they're unstoppable.

— Those at the backend of their career. They might be realizing the traditional path is not for them and want to work on something meaningful. You can give them an environment to thrive.

— Those at the apex of their career. They've had enough experience to be super talented but are still at enough of an early stage to be really driven and hungry as well. 
I love pointing this out to people in an interview and saying, "I don't need to know where you fit in one of those, but tell me that this opportunity is the right timing for you." After getting that conversation going, I also try to get past typical interview-type questions and say, "let's be honest here. Is this what you're looking for?" Once you get to that granular honesty, I think you can have an amazing conversation and quickly realize whether it's the right fit either way.
On that note, what's something no one tells you about being an entrepreneur?
If you try to dissect what you're trying to do too much before you start, you'll never start it. So just take your first step. Keep moving, stay passionate, work hard, and you will get somewhere and hopefully that's beyond what you expect to. In hindsight, it's actually vastly more simple than people make out as well. It's just that matter of just moving and taking that first step.
What's your secret to powering through when times get tough?
I've gone through a lot of difficult times in terms of finding my niche in professional life. I think the one realization we all get to is that, eventually, you do get through it. 
When you've gone through that cycle once, you have that power of hindsight. You can say, "All I can do is keep pushing and I know my perseverance might be better than their resistance." And you realize persistence was the number one thing that got you through — you weren't smarter than the next person, you weren't better than the next person, but you just persisted more.