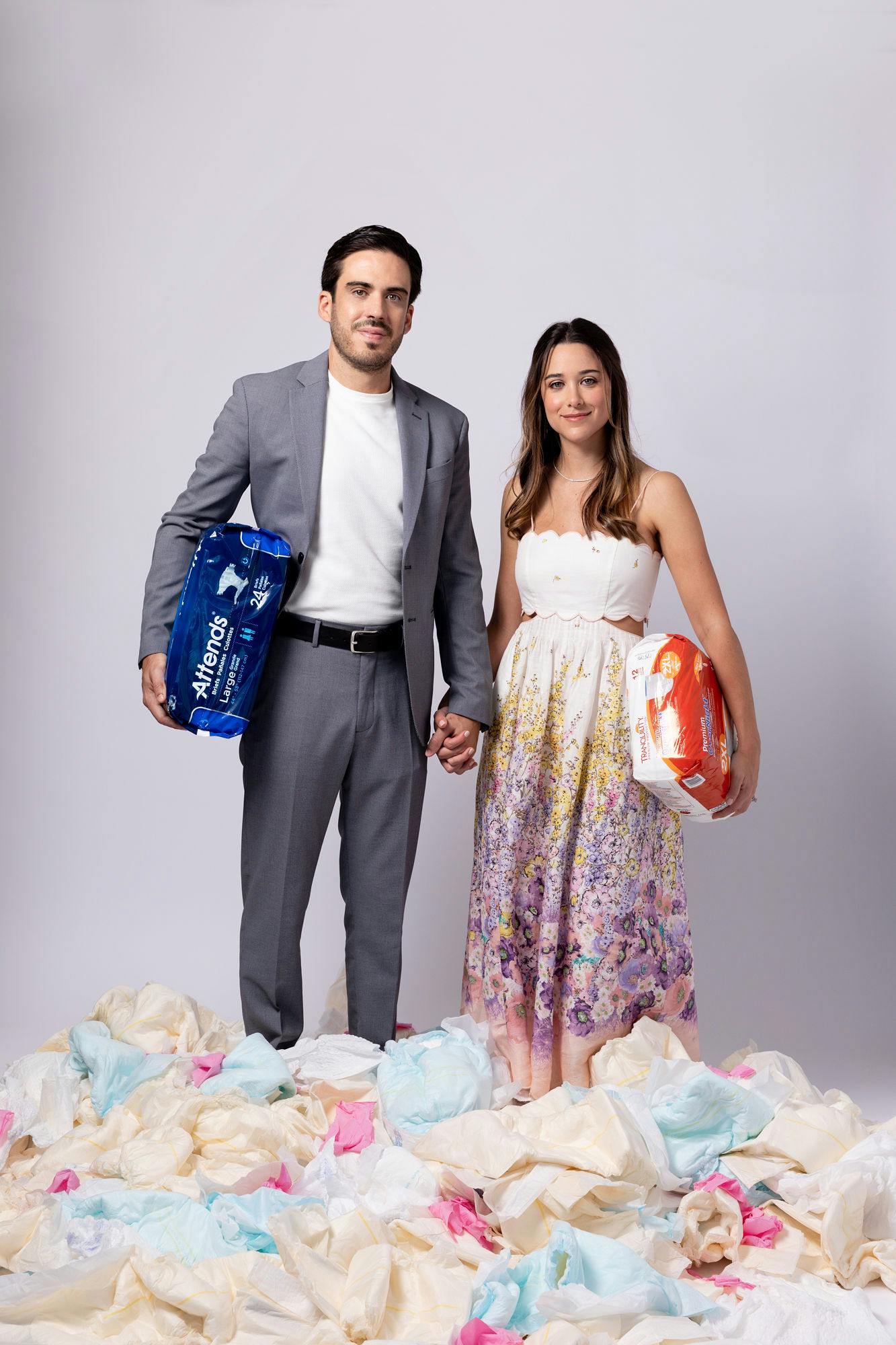 Bianca Padilla & Jonathan Magolnick
A mention of adult diapers doesn't usually sizzle on a first date. But for Bianca Padilla and Jonathan Magolnick, the topic sent sparks flying.
"I remember I was like, 'Mom, I met the person I'm going to marry—and if he doesn't want to marry me, at least he brought me a billion dollar idea,'" she said.
Bianca said her now-husband was, in fact, a little bashful bringing up his idea for an adult diaper subscription service while they sat together at a Miami Heat game. Little did he know, Bianca and her mother had recently become first-time caregivers for her grandmother, so the concept immediately hit home. 
Soon enough, Bianca and Jonathan were laying both wedding and business plans. In 2017, the husband-and-wife team founded Carewell, a curated e-commerce platform of elder care products at competitive prices. As CEO and COO, they're on a mission to be the most trusted resource for family caregivers, and are part of the fast-growing elder care services market, expected to grow to $1.7T in the next four years. 
We caught up with Bianca and Jonathan to learn more about how they've grown their business alongside their relationship, and how they're changing the conversation about old age.
It's rare to become a couple and co-founders at the same time. What are some ways that's influenced your partnership?
BIANCA: It's funny, most people don't even talk about finances until after they're married and we were talking about them three months into our relationship. That's one of the great parts of starting a business with your partner: Especially when you're bootstrapping a business like we did, you're using someone's savings, or taking out a loan or working a second job. Discussing both personal finances as well as the business finances early helps you set boundaries and guidelines. 
JONATHAN: Our relationship definitely came first, but as our relationship continued to strengthen, so did Carewell. The foundations of a strong relationship and building a source of support for caregivers are the same. They're built on trust, care, compassion, and empathy.
BIANCA: We care for our caregivers in the same way that we care for our own families. I got to meet Jonathan's family and he got to meet mine. Those are the people who we were thinking about when we built this service. Jon and I were the first customer care agents and we spoke to our customers and they spoke to us like family members. They felt that trust, they felt that care and that compassion and empathy come through.
What's your secret to getting through the tough moments in your relationship?
BIANCA: We both work with an executive coach and one thing we've learned to identify is how we behave when we're afraid. Everyone has a different fear response, but there are patterns: some people point fingers, some people become angry, some people will lie. It's almost more important that you can recognize these behaviors in yourself. Because once you express that you're fearful, it's much easier to deal with the problem or challenge. It allows us to diffuse the situation and talk through it without so much emotion. 
When Jon is afraid he tends to shut down—he doesn't speak. I'm like, 'I just want to hear your opinion!' but I know he doesn't like to talk in those moments.
JONATHAN: To the contrary, Bianca kicks into a new gear, working extra hard and way too long. I'll have to say, 'Hey you need to take a break! Slow down, and let's do this together.'
How does your at-home dynamic compare to your at-work dynamic?
BIANCA: I have visions of how I want to structure the culture of the business, the vision for the company and where we're going. Jon is more of an execution type role and really supporting me getting big picture things done by handling the day to day. I'd say that that's the case also in life.
JONATHAN: I'm more like the laundry and dishes person.
BIANCA: It's always a partnership: I continue building the path forward and he's the one who's laying the tracks behind. So we work in tandem to do that and make sure that we're both happy, we're both successful and we're both on the same path.
What is your vision for Carewell today—what is the opportunity you're seeing in the market that you're driving towards? 
BIANCA: Our hope is to really usher in a new era of innovation and a new mentality around what it means to age. This generation that's about to age is really different. They feel younger and they are in better health and they are more excited by retirement and the opportunities post work life. The industry has to evolve to keep up with them, from the way we speak to the aging population to the way products are designed.
JONATHAN: There's such a lack of creativity happening in this space, and this is a generation that we owe so much to. Our generation will be the ones who step up. 
After talking to so many caregivers, what kinds of innovation do you think we need to see in elder care? What does this new experience of aging look like for your parents, for yourselves—for all of us?
BIANCA: 90% of Americans want to stay at home rather than move to a nursing home. They want to stay close to their families and friends. But only 2% of American homes are outfitted to age in place safely. And they need products that are more innovative in terms of the way that they look: Nobody wants to fill their homes with hospital-grade wheelchairs or grab bars or toilet seats. People want things that look beautiful and that look comfortable and that have dignity to them. And so I think there's a massive opportunity. This is why I'm always so excited about our businesses and helping curate these new and innovative products.
We love supporting visionary duos of all kinds. Check out our conversations with Honeycomb co-founders Charity Majors and Christine Yen, and Trellis co-founders Nicole Clark and Alon Schwartz for more insights into thriving partnerships.